As parents of young children, we all know that there's something pretty special about an empty cardboard box.  Its sturdy corrugation holds the promise of a derby car, rocket ship, or the beginnings of an elaborate dollhouse.  So, before you tear down your latest packaged delivery box here are some ideas to entertain the kids…
Enhance cardboard box play with these clever toy add-ins:
Sheets & blankets – Cardboard boxes mixed with sheets & blankets become hours of open ended play as kids design & build their own fort.  Think of all the math & science concepts they'll learn as they figure out construction techniques!
Stuffed animals – A cardboard box quickly becomes a zoo or animal hospital when stuffed animals get invited to the party.
Dress up clothes – Kids are creative, so let them get dressed up with their box.  You'll never know what they'll think up when they have access to clothes to play make believe.
Markers & crayons – More forgiving than paint, markers and crayons are a great way to personalize or draw details onto a cardboard box.
Pillows – Adding in some pillows creates a soft place to do puzzles or read quietly!
Small cars & trains – From race tracks to train tracks, adding in small vehicles will absolutely give a cardboard box new life.
Action figures – Turn a cardboard box into the Ninja Turtle's underground headquarters or the Mickey Mouse Clubhouse.  We all have plenty of "little guys" hanging around our houses and boxes make great play spaces for them, too!
Small dolls – Turn a box on its side and add a second floor for small dolls like Lalaloopsy & Shopkins.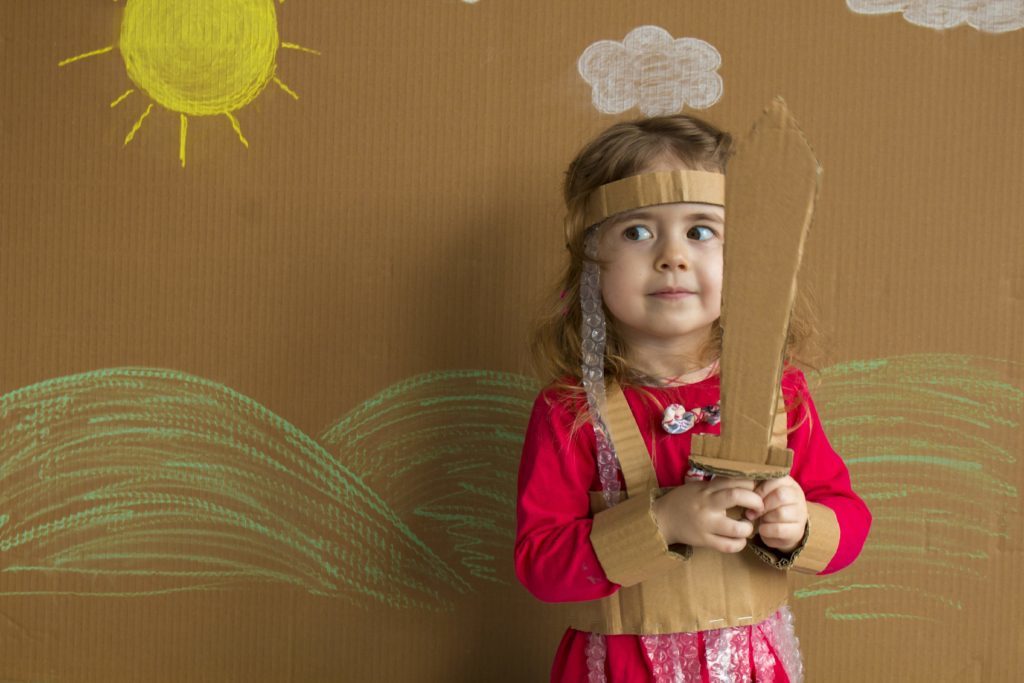 Decorate your box with:
Washable paints – If you like your furniture, then I would suggest taking the painting projects outside.  Perfect for a not-too-hot kind of day, your kids will love painting their box all the colors of the rainbow.
Stickers – Finally something the kids can paste stickers on!  Round up all the doctor's office and junk mail stickers and let 'em have at it.
Duct tape – Not only will duct tape help reinforce the corners of the box, but it can also be a great way to dress up a box.  And now with specialty styles of duct tape, the kids can really jazz up their box.
Scrapbook paper – If the kiddos are designing a dollhouse, scrapbook paper & some glue will really dress up the interior!