Calling all nature lovers – take an afternoon road trip to the Hearts Content Recreation Area where you can sleep amongst the 300 – 400-year-old white pine that tower 140 feet above in the small campground within the 122-acre Hearts Content Recreation Area. There's 26 individual camping sites, but it's rustic!
In an area that was mostly clear-cut in the 1800's, 20 acres of what is now Hearts Content was owned by Wheeler and Dusenbury Lumber Company from 1897 to 1922. Wheeler and Dusenbury deeded the land to the U.S. Forest Service in 1923.
Hearts Content is designated as a National Natural Landmark. Civilian Conservation Corps (CCC) workers constructed the campground, picnic area, and pavilion in 1936. An exhibit of a hand-hewed log is adjacent to the picnic area.
The Hickory Creek Trailhead and the beginning of the hiking trail is just north of the campground. Nearby loop trails for hiking and cross-country ski trails, as well as the interpretive trail through the Old-Growth forest are centered within the Hearts Content Day Use Area located across the road (east) of the campground.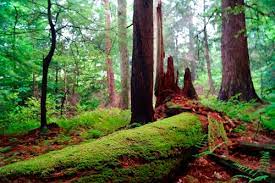 For more information on operating hours, visiting guidelines and admission rates please visit https://www.fs.usda.gov/recarea/allegheny/recarea/?recid=6108 or call +1 814-723-5150