Growing up in a small town, first Mifflinburg and then Lewisburg, I was never without a playground near me and my family, especially with Playworld Systems, a playground manufacturer practically in our backyard. We always had access to the best playgrounds at our community parks and our elementary schools.
As a mom, I've always wanted the same playground experience for my kids, too. Finding great playgrounds in your area is easier than ever with these tips and tricks.
Use the search term "Playground Near Me"
Start by doing a quick online search for "playgrounds near me" or "kids' parks near me." This will bring up a list of local parks on Google, many of which will have playground equipment. These will be listed as places and they'll likely show up on a map making it even easier for you to find a playground for your kids to play.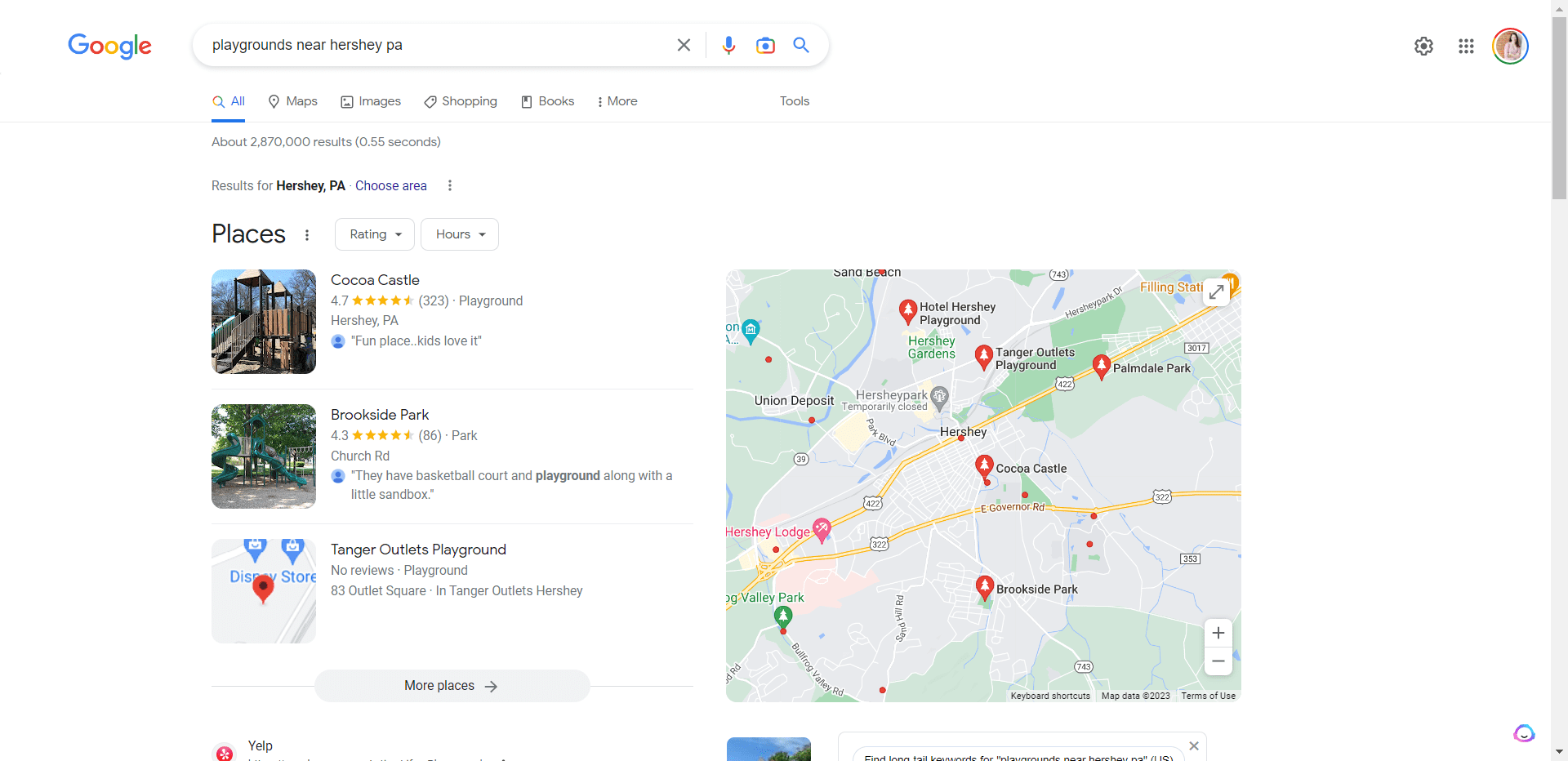 You can also use an app like Playground Buddy (available on the app store) to find playgrounds nearby. This is a handy app to have if you're traveling because it can be used worldwide to find playgrounds near you no matter where you are.
Find the Best Playgrounds Using Images
Another great tip for finding "playground near me" in your city or region, is to search for "playgrounds near" and your city and then see what images show up on Google. In addition to the directory listing in Google Maps, you'll also see lots of photos that other moms have taken and loaded to Google.
Here's an example of "playgrounds near Hershey PA" that we can use to see how this works: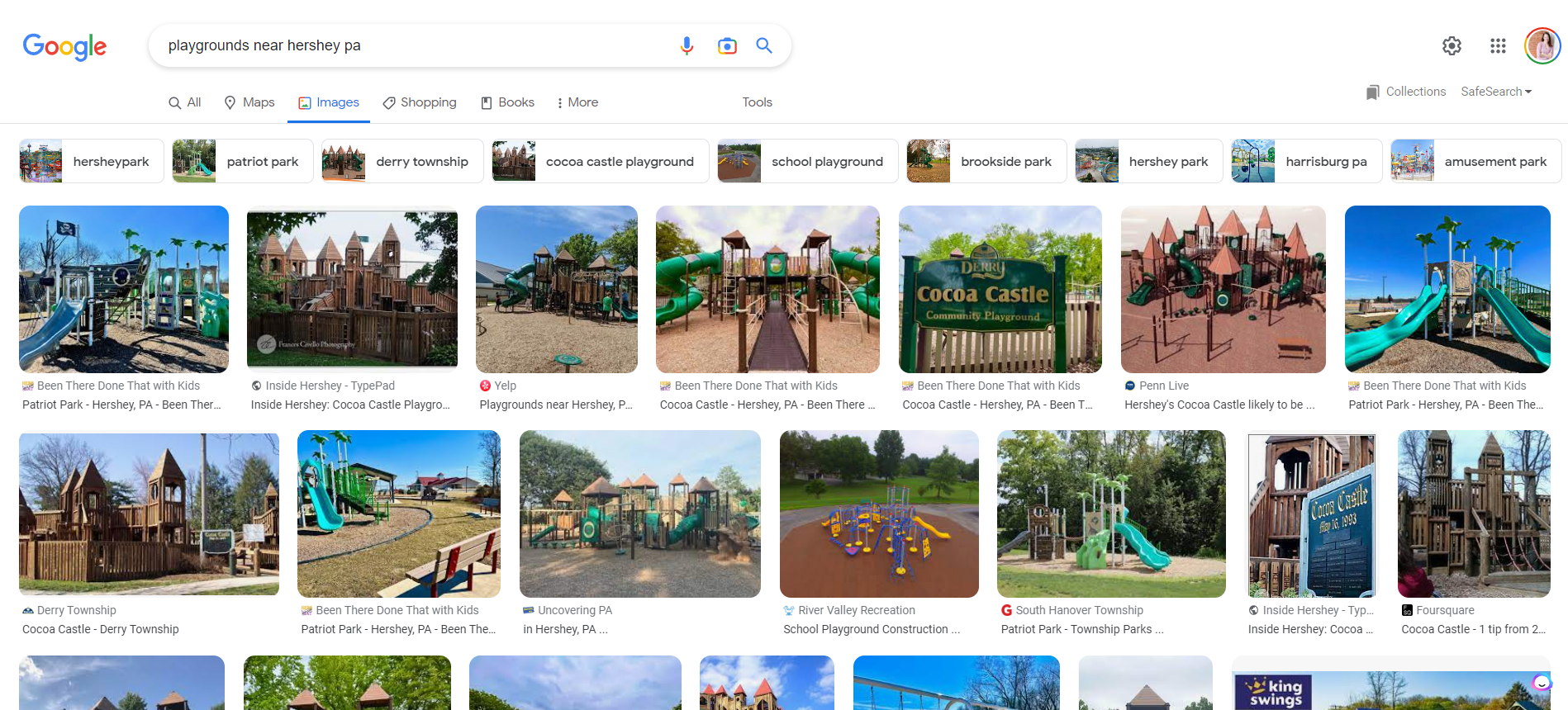 Find Playground Near Me via Social
Another great way to find "playing grounds near me" is through social media. Join local parenting groups on Facebook or other platforms and ask for recommendations from other parents in your area. They may be able to suggest hidden gems that aren't easily found through online searches. You can also follow the hashtags of cities or areas you're interested in to see what other people are saying. When it comes to playgrounds, a little local knowledge goes a long way!
Church and School Playgrounds Near Me
Don't forget about school and church playgrounds either. Many schools allow community members to use their playground equipment outside of school hours, and some churches also have outdoor play areas that are open to the public. Not only that, many churches have indoor playgrounds as an added ministry to attract young families to their church.
Know Before You Go
Before visiting any potential playgrounds, be sure to check out reviews and photos online. This can give you a better idea of what the playground is like and whether it's appropriate for your child's age group.
Explore Playgrounds Outside Your Town
And finally, don't be afraid to venture out of your immediate area. There may be some amazing parks and playgrounds just a short drive away that you never knew existed!
Popular Playgrounds Near Me in Pennsylvania
Imagination Playground (Philadelphia)
The Land at Hillwood Farm (Media)
Smith Memorial Playground and Playhouse (Philadelphia)
The Children's Garden at Hershey Gardens (Hershey)
Kid's Castle Playground (Doylestown)
Blue Slide Playground (Pittsburgh)
Franklin Square Playground (Philadelphia)
Sister Cities Park (Philadelphia)
Adventure Zone Playground (Robinson Township)
Discovery Playground (Exton)
Treetop Quest Philly (Philadelphia)
Ohiopyle State Park (Ohiopyle)
Boundless Field Playground (Glenside)
Memorial Park Playground (Bethlehem)
Reservoir Park Playground (Harrisburg)
Creative Playground (Lancaster)
Harleysville Community Center Playground (Harleysville)
Central Park Playground (King of Prussia)
Saylor Park Playground (Blacklick)
Cedar Beach Playground (Allentown)
In conclusion, finding great playgrounds near you is easy with a little bit of research and exploration. So grab your kids, pack some snacks, and get ready for some outdoor fun at one of the many fantastic playgrounds in your area!