The Pocono Mountains of Pennsylvania are a perfect destination for those looking to escape the hustle and bustle of everyday life. Nestled in the heart of this picturesque landscape is Camelback Resort, home to Aquatopia Indoor Waterpark. With its luxurious accommodations, top-notch amenities, and state-of-the-art water park, it's no wonder why Camelback Lodge is one of the most popular resorts in the area. Whether you're looking for an action-packed weekend of water slides or simply want to relax in a cabana by the pool, Aquatopia Indoor Waterpark at Camelback Lodge has something for everyone!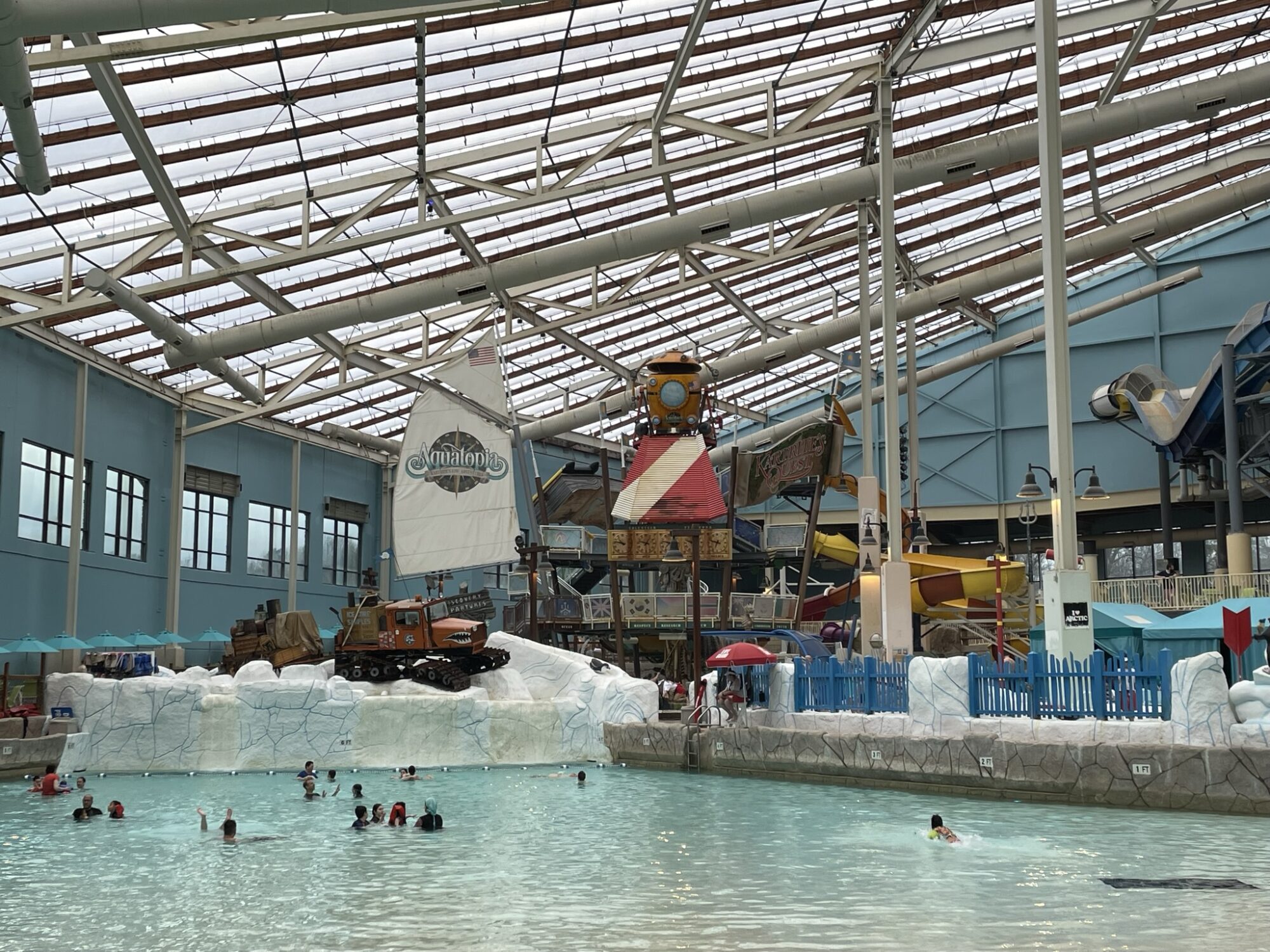 We recently traveled to Camelback Resort to experience Aquatopia for ourselves. Here's what we loved about Aquatopia Indoor Waterpark and our stay at Camelback Lodge:
Staying at Camelback Lodge
As you enter the driveway to Camelback Lodge, you'll be instantly impressed at the sheer size of the resort hotel. Featuring 453 guest suites over eight stories, this modern mountain hotel has its own distinct style that blends the best of traditional and contemporary design elements.
The lobby and guest check-in area is a multi-story space with high ceilings and beautiful stained glass chandeliers. There is a small seating area with a fireplace that is welcoming, especially to skiers just coming off the slopes.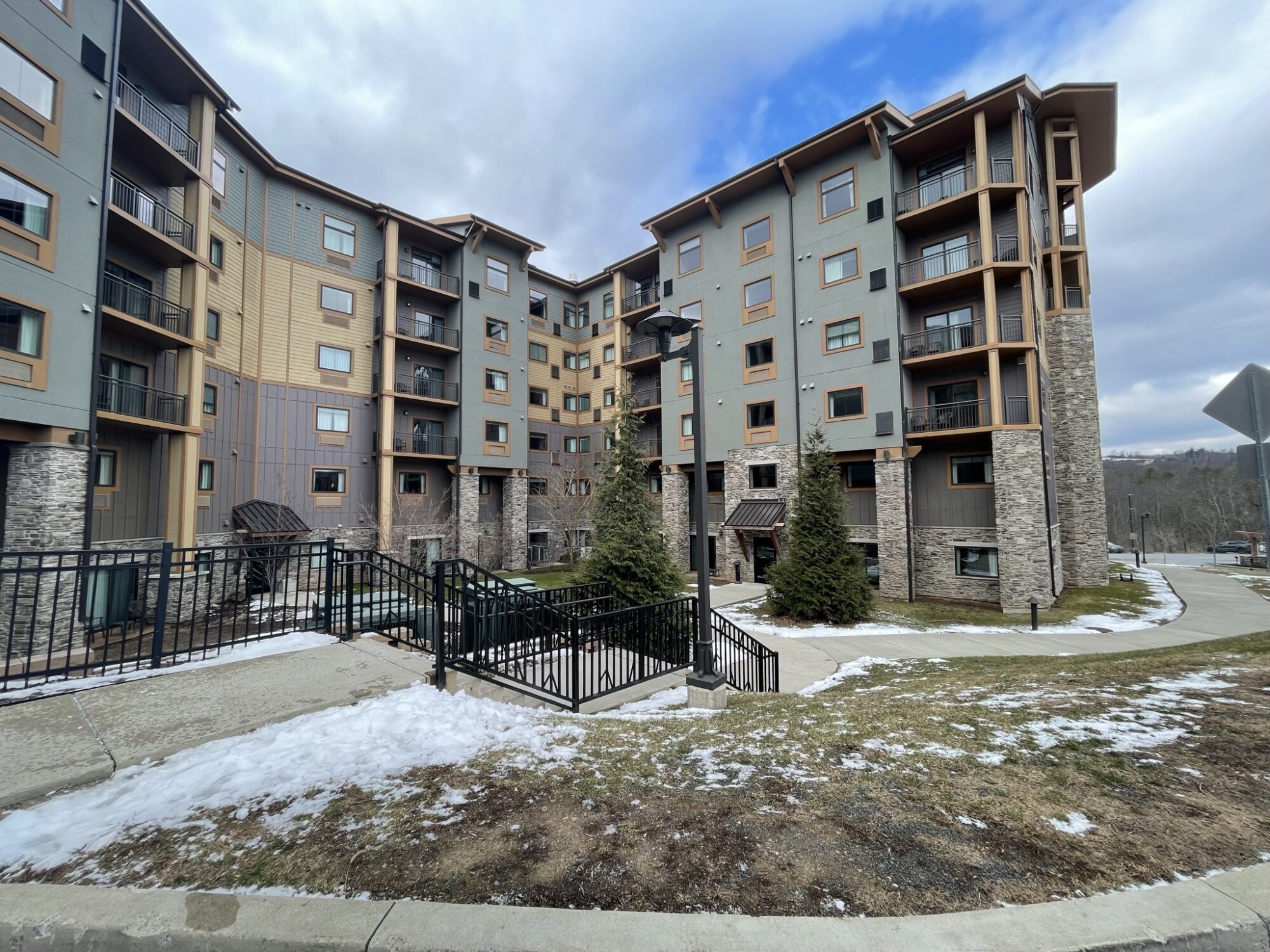 Just beyond the fireplace area is where you'll find the guest services desk where they can assist you with check-in and any questions you may have during your stay. (Shout out to Cici, who was enormously helpful to us & so personable.)
Upon check-in, you'll receive a bright red wristband that acts as both your room key and gives you access to the indoor waterpark. You'll first need to activate to use the elevators and then you're set for the duration of your stay.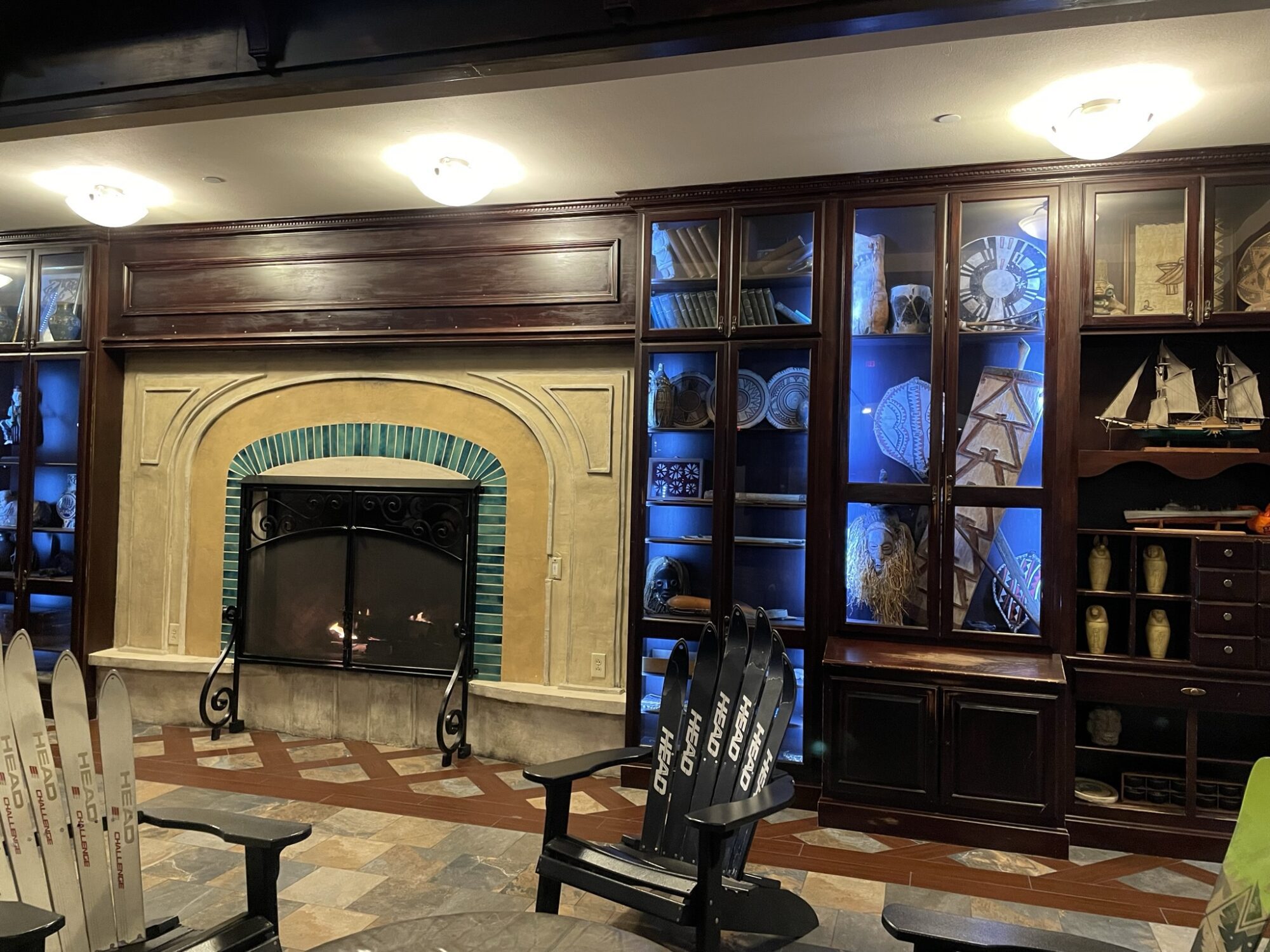 Guestrooms at Camelback Resort
When traveling with four kids, we often have to splurge on two hotel rooms to accommodate our large family. Luckily, Camelback Lodge has multiple suites that are designed for traveling with large parties. We opted to stay in a 2-bedroom suite during our stay and it was the perfect amount of space for Mom, Dad, 3 teenagers, & our tween.
When you first enter your suite, you'll notice that no detail has been spared. The furnishings are modern and yet rustic (think Crate & Barrel but in the mountains) with artwork from the region's top nature photographers. Our living room area had a beautiful fireplace and gold velvet sofa along with two wingback chairs for relaxing. Just one turn of the fireplace controls and there was instant ambiance in our suite.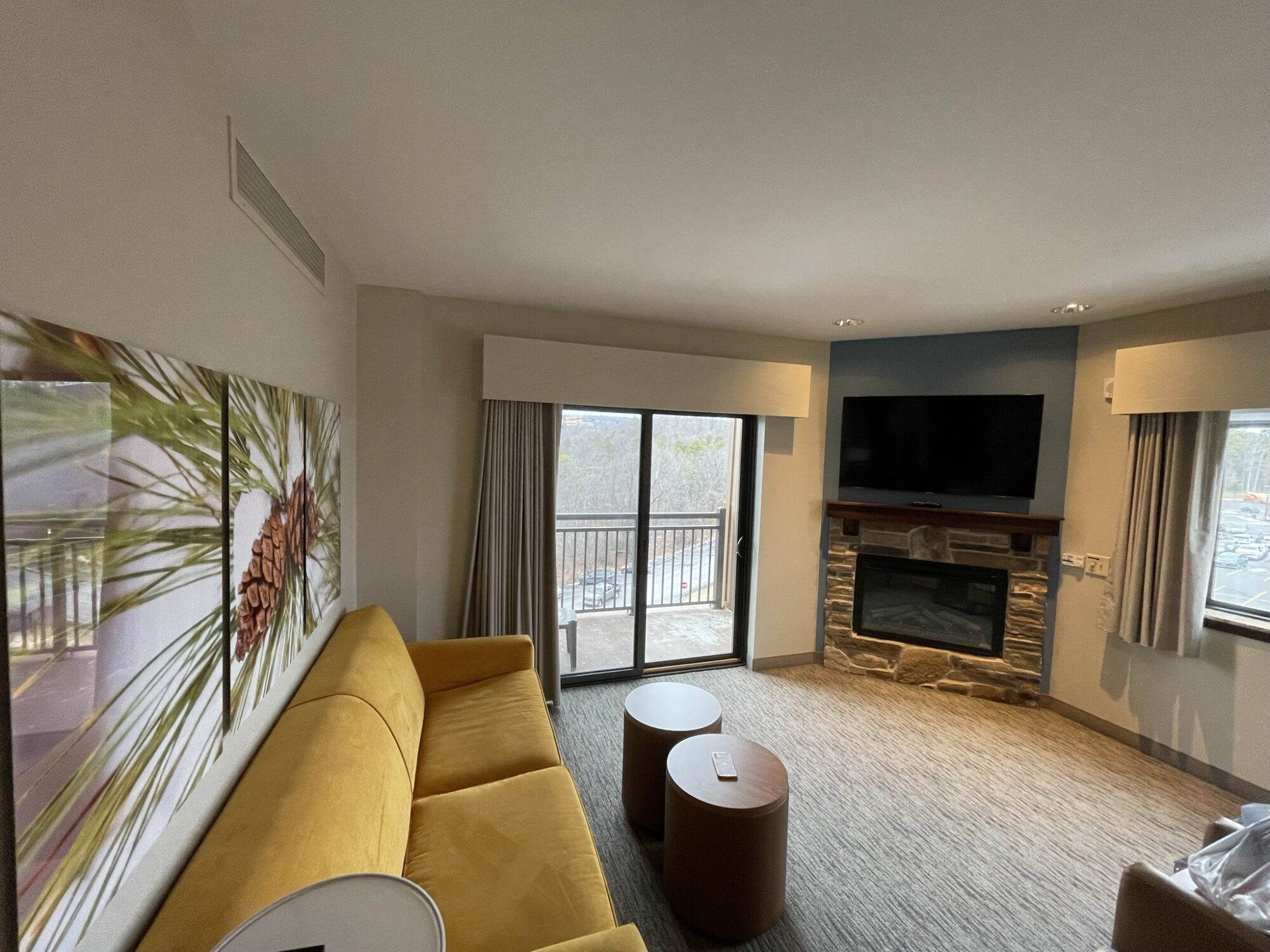 Each of the bedrooms is separated by the common living room and dining area, providing some privacy for the grownups. The master bedroom features a king-size bed and has an ensuite bath with a walk-in shower, while the second bedroom with 2 queen-size beds could use the main bathroom.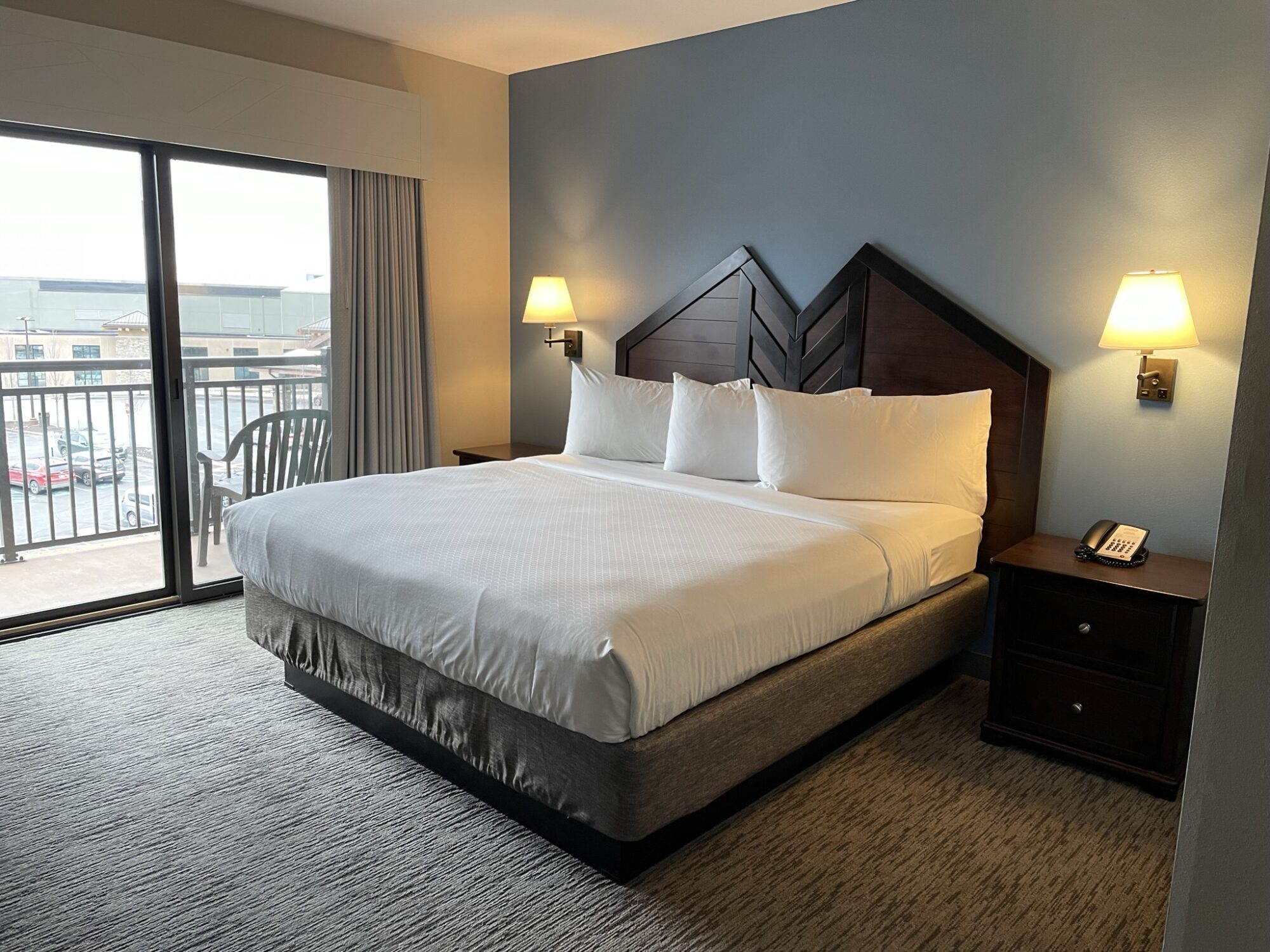 Other accommodations at Camelback Lodge include:
Double Queen Suite
King or Queen Bunk Suite
One, Two, & Three Bedroom Suites
If you're traveling with strollers or ski equipment, there is plenty of space in the room for your belongings. We had a small closet in our main living area as well as a shelf & coat rack in the hallway upon first entering our suite. We were able to hang up our coats and all of our snow gear in this area.
Guest Room Amenities
We made great use of the snack-size refrigerator, coffee pot, and microwave in our suite. There are delicious snacks available for sale at the resort, but you can also bring along snacks for eating in your room.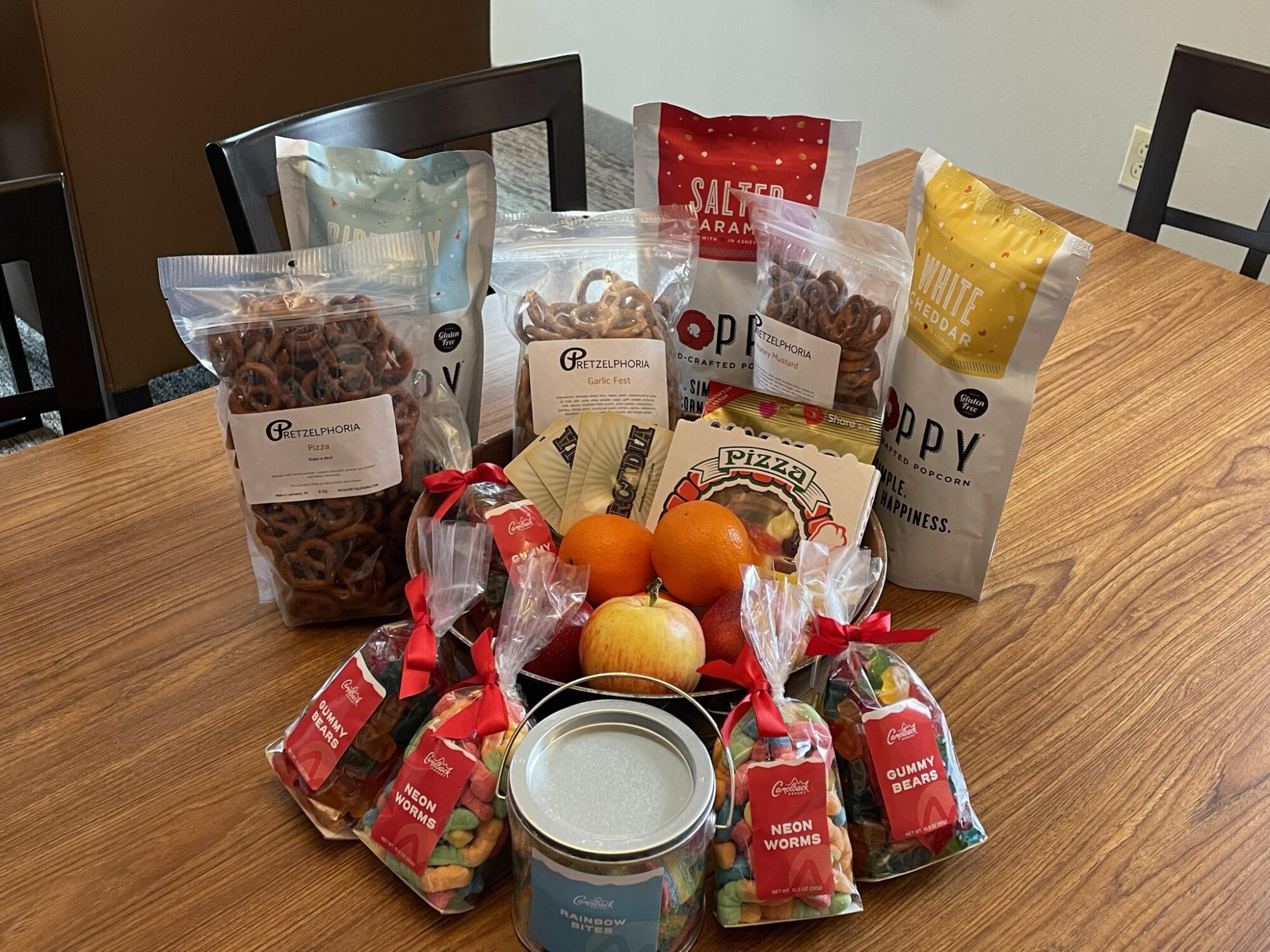 The living room and both bedrooms have large flat-screen televisions and there is an in-room safe for protecting your valuables. You'll also find an iron and ironing board, a table and chairs, and high-speed internet access in both your room and throughout the resort.
Aquatopia Indoor Waterpark
First, Aquatopia Indoor Waterpark is an absolute dream for water park lovers! From thrilling tube slides to the relaxing lazy river, Aquatopia offers something for every type of adrenaline seeker. There are plenty of activities for kids and families, including a wave pool, splash pads, and even a swim-up bar.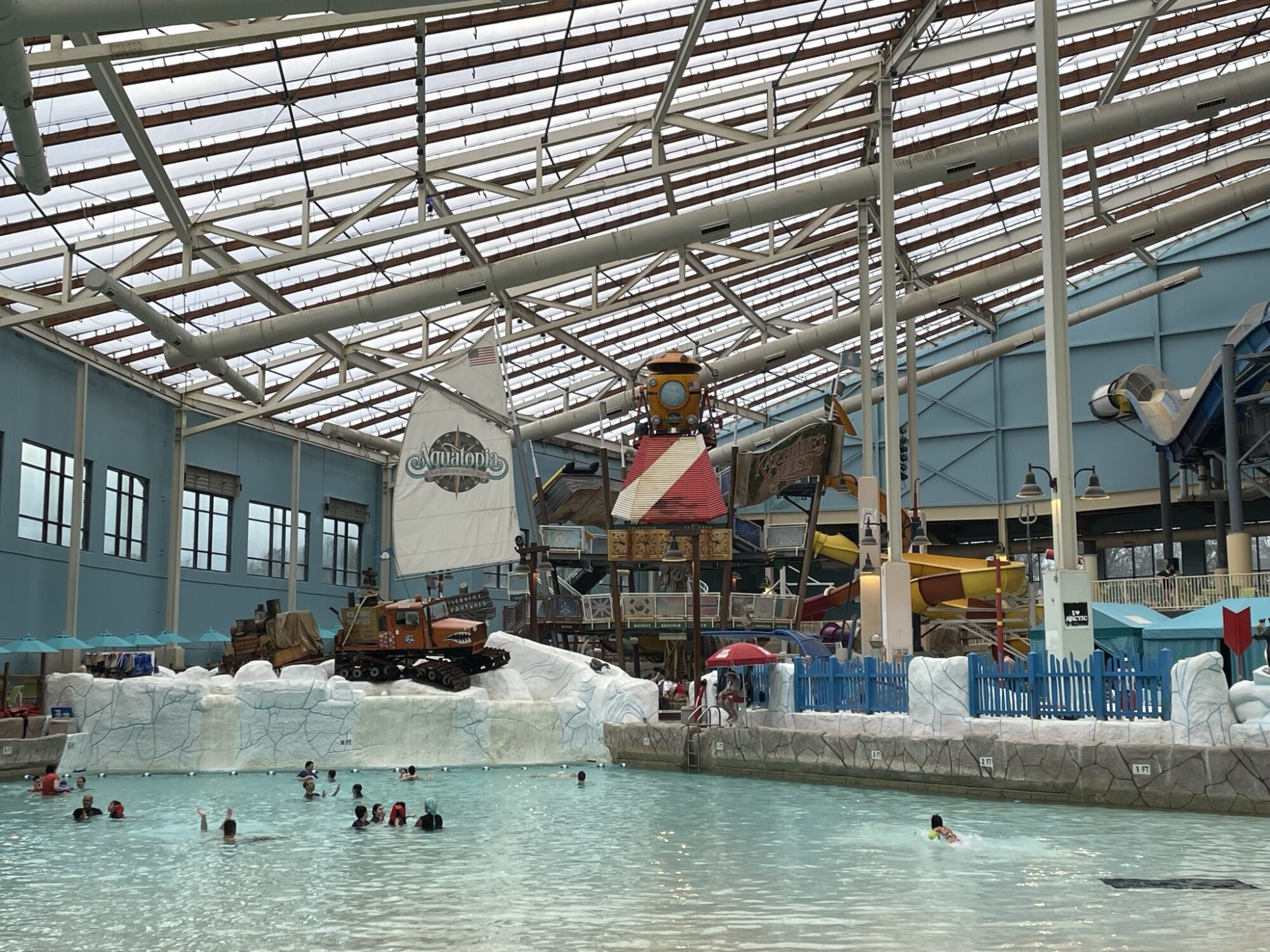 When we first arrived inside the waterpark, we were greeted by the friendly staff who showed us how to scan our wristbands and checked our tote for outside food. There are snacks available for purchase in the Mountain Market, located on the second floor across from check-in, where you can grab some candy, bags of pretzels, gourmet popcorn, and more.
You'll be given a stack of fresh towels to use while at the waterpark at no additional charge. If you wish, you can rent a cabana to be your home-base while at the waterpark. Each cabana comes with bottles of water and a refreshing and delicious fruit tray. You'll also be aided by a server who can assist with ordering any snacks or grown-up beverages during your time at the waterpark.
Waterslides at Aquatopia Indoor Waterpark
There are a lot of different styles of waterslides at Aquatopia – there are tube slides, body slides, mat slides, a bowl and aqua launch slide, as well as kiddie slides that you can find in the Kartrite's Quest area.
Some grownups like to relax and watch their kids ride slides, but that's not how we roll. Mom and Dad were right there in it with the kids and let me just say… it's the most fun I've had in a long time.
Here are the slides and attractions we went on & what we loved about them:
The Venus Slydetrap
The Venus Slydetrap is a group raft ride that accommodates 3-6 riders on a heavy-duty round raft. Riders are first weighed to ensure they're between the limits of 300-800 pounds total before climbing aboard. Younger riders need to be at least 42″ tall and will need to ride with an adult to meet the weight requirements.
My first reaction to this slide was written all over my face – thrilling & terrifying. This thrilling 608-foot-long slide takes you through an enclosed tube with lots of twists and turns before you plunge into what looks like the open mouth of a Venus Fly Trap.
Mountain Mayhem
The newest slide at Aquatopia, Mountain Mayhem, has four different multi-sensory scenarios to choose from for an intense light show experience throughout the twisting 403 ft long enclosed slide. Riders can choose to ride single or double on the double tube but must be 42″ tall to ride (with an adult) and 48″ to ride without a lifejacket.
The effects were amazing! Our kids absolutely loved the lights and sounds as we shifted through each of the four scenarios. We chose to ride together on a double tube – it was definitely our favorite Aquatopia Indoor Waterpark experience!
The Constrictor
Located directly next to Mountain Mayhem, the Constrictor is another fun fully enclosed tube slide with a double tube for riding. The Constrictor is more than 100 feet longer than its neighbor and has lots of turns for that merry-go-round type of feeling in your tummy. It's fast and it's fun and a close second to Mountain Mayhem in the Family Fun rating scale.
Outa-Space Race
The Outa-Space Race is a fully enclosed body slide with lots of twists, turns, and drops that give you the feeling of flying through outer space. At the bottom of the slide, you'll find your speed and time which can make for some healthy competition among siblings.
Skydive Plummet
The bold and brave teen in our family chose to give the Skydive Plummet, a 312 ft, free-fall body slide a chance. After climbing the stairs to the top of the slide, riders stand on a platform that gives way after a countdown. Riders then plummet down a steep drop into the landing area below.
The Himalayan
The Himalayan is a head-first mat waterslide that travels down a fully enclosed tube with periods of dark and then colored light strips throughout the ride.
The Lost River
The Lost River is Aquatopia Indoor Waterpark's lazy river and a fun way to take a break from the more thrilling water slides. There are single and double tubes available, or you can just swim along if you choose. The entry area to The Lost River makes it easy to access and there is a lifeguard on duty who can provide assistance if needed.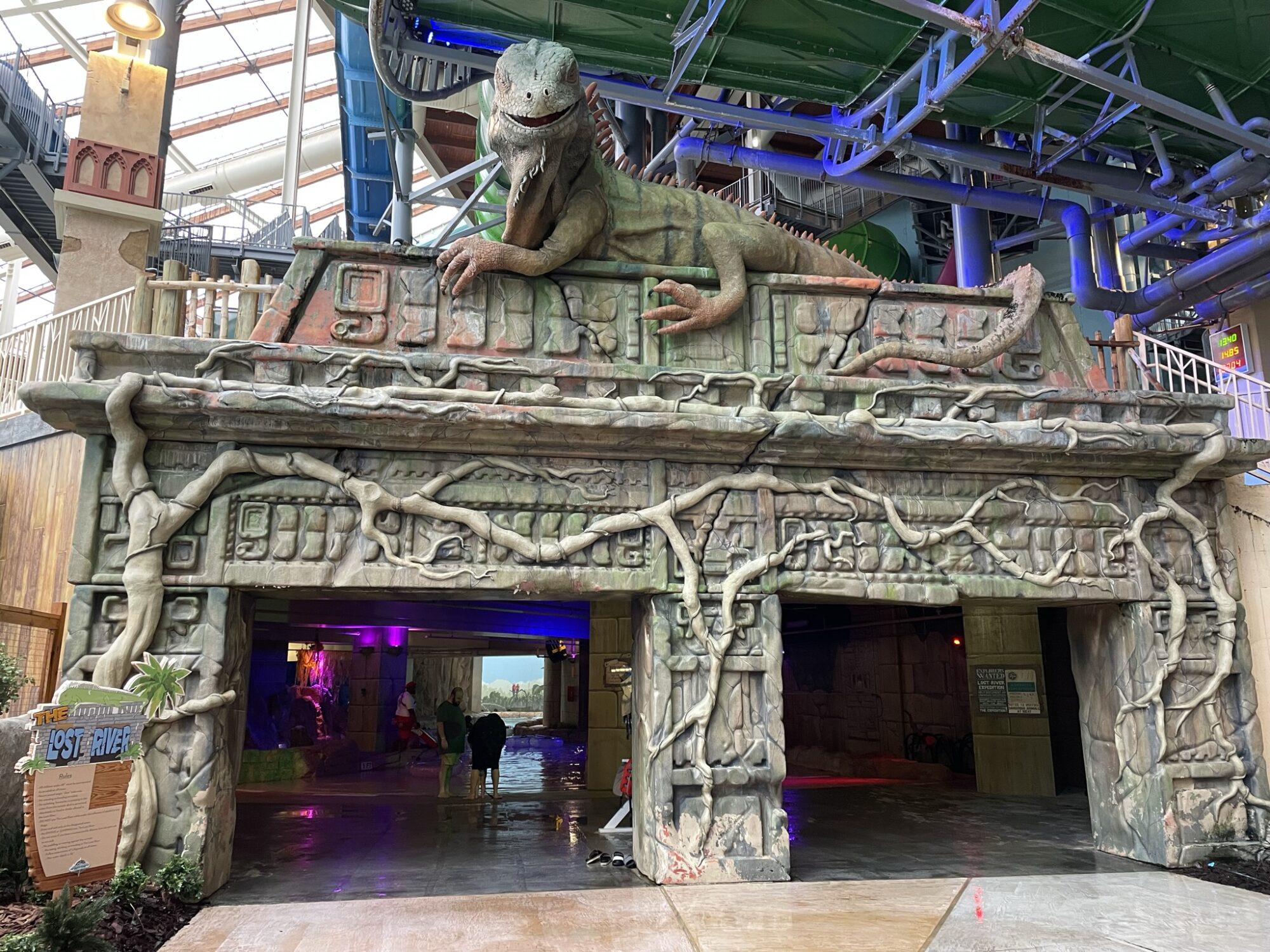 The Ka-Na-Gawa Wave Pool
The Ka-Na-Gawa Wave Pool is Aquatopia's wave pool and is great for all ages. The waves offer just enough excitement to keep you on your toes while still being enjoyable for the smaller kids in your family. It's also a great spot to lay back, relax, and enjoy the sunshine! The water is warm and the waves are fairly gentle.
Mystic Springs
Mystic Springs is the hot tub area that also has outside access, but we didn't stay in here for too long. It's billed as an indoor/outdoor spa lagoon, but with the weather being cold in Pennsylvania, the water was a little chilly for us. If you're there to relax after skiing, you'll probably enjoy the jets on your tired muscles.
Kartrite's Quest
This area is built for younger children, but all 4 of our kids loved this play area — even the 16-year-old! His favorite was the Lava Luge Bowl Slide, but they all took advantage of the short lines and rode all the slides in this area over and over again. In all, there are 84 interactive water features in Kartrite's Quest at Aquatopia.
Dining at Camelback Lodge
There are lots of dining options available when staying at Camelback Lodge. If you choose, you can order food poolside inside of Aquatopia Indoor Waterpark, but we opted to change our clothes and venture out to one of the dining spots inside the lodge.
Graffiti Pizza
Graffiti Pizza is located on the 1st floor of Camelback Lodge on the outskirts of the arcade and right next to the entrance to the waterpark. At this New York themed food spot, you order your pizzas, sandwiches, and salads at the counter and watch as they're made fresh.
With four hungry kids, we opted to eat at Graffiti Pizza and ordered three pizzas & two salads which were plenty to feed all six of us. The thin-crust pizza was delicious and you get to choose your salad topping so we loaded ours with lots of fresh veggies like peppers, mushrooms, and tomatoes. One pizza will cost you around $12-14 depending on your toppings.
Hemispheres
Hemispheres is a large restaurant located off the main lobby that's open for both breakfast and dinner. They have a large breakfast buffet as well as a menu, too. Reservations to hold your table can be made online.
Cafe & Bar, Coffee by La Colombe
Just to the left when you walk into Camelback Lodge, the Coffee by La Colombe cafe and eatery is open in the mornings on weekdays and all day on the weekends with fresh coffee and pastries. There is seating available with large booths that can accommodate whatever size crowd you're traveling with.
Wine and cocktails are also served here, but we opted for one brewed coffee and one Caramel Macchiato. So good.
Mountain Market
You can also find to-go coffee at Mountain Market along with other grab-and-go breakfast items like fruit, yogurt, and assorted pastries. This is also where you'll find snack foods and drinks, as well as gourmet treats. Additionally, Mountain Market has all your Camelback souvenirs and convenience items available for sale.
Sugar Shack
If you're craving a sweet treat, Sugar Shack is located next to the arcade on the ground floor for all the ice cream lovers in your family.
Berrelli's Italian Chophouse
Berrelli's is just a short walk or shuttle ride from Camelback Lodge and features all your favorite Italian dishes. As part of the recent reinvestment program, Berrelli's has taken efforts to revamp its menu and look to make the dining experience unforgettable. Berrelli's is on the pricier side, so make sure to look at their menu before you go. Kids' meals are $14 each.
Trails End Pub & Grille
As we walked along the corridors in the lodge, there were large stickers on the floor with arrows to the Trails End Pub & Grille so naturally, we had to follow them. Trails End Pub & Grille looked to be a favorite amongst skiers coming in from a cold day on the slopes. It's a great place to get a beer or cocktail, an appetizer, or one of their many sandwich choices. Kids' meals are $12 each.
Recreation & Activities at Camelback Lodge
As a guest at Camelback Lodge, you can take advantage of all the activities that Aquatopia has to offer in addition to skiing on the slopes and playing at Aquatopia. On the weekends, there are lots of activities on the schedule for kids. Just check the calendar next to the check-in area of the lobby.
Arcadia Arcade
You literally can't miss the Arcadia Arcade, unless you walk blindfolded into Aquatopia. The arcade is on the ground floor of the lodge and features all your kids' favorite arcade games like basketball, skee-ball, and claw machines.
Arcadia Adventures
Arcadia Adventures is near the Columbe coffee shop on level 2 of Camelback Lodge and features a smaller arcade area for younger children as well as a small rock climbing wall, gem mining, bumper cars, an indoor ropes course, and more.
When you're planning to travel to Camelback, we suggest planning in advance what activities you'd like to do because there are so many to choose from and you won't be able to do them all (unless you're staying for a week!).
Visiting Camelback Lodge
Overall, Aquatopia Indoor Waterpark at Camelback Resort is a great destination for families looking for something to do during their stay. Camelback Lodge has something for everyone with its indoor waterpark, skiing and snowboarding, snow tubing, and more. With the many dining options available in the lodge and surrounding area, you'll never go hungry. There are lots of activities to keep the kids entertained and Camelback is always a great place for families looking to make memories.
Pack your bags and book your stay today! Happy Travels!