Hershey, Pennsylvania is often referred to as the "Sweetest Place on Earth" and it's no surprise that this small town offers more than just an amusement park. From sweet treats to special events, Hershey has something for the whole family with fun activities other than the theme park. Ready to find out what to do in Hershey PA besides Hershey Park? First, let's learn a little unique history about this awesome town.
Hershey, Pennsylvania is a small town located in Dauphin County in Central Pennsylvania. It was founded by Milton S. Hershey in the early 1900s as a company town for his chocolate manufacturing business, The Hershey Company. Originally known as Derry Church, the town was renamed Hershey in honor of its founder. Under Hershey's leadership, the town grew rapidly and became an important hub for chocolate production and tourism.
In addition to building a factory to produce his signature milk chocolate bars, Hershey also constructed schools, parks, and other amenities for his employees and their families. Today, the town remains closely associated with The Hershey Company and is home to several popular attractions related to chocolate-making and candy culture, including the Hershey Story Museum and Hersheypark amusement park.
Here are some ideas of what to do in Hershey PA besides Hershey Park:
Visit Hershey Gardens and Butterfly Atrium
Hershey Gardens is a beautiful botanical garden located in Hershey, Pennsylvania. The gardens cover 23 acres and feature a wide variety of plants, flowers, and trees from around the world. There are plenty of things to do at Hershey Gardens, whether you're a nature lover or just looking for a fun family outing. Some highlights include:
Butterfly Atrium: This indoor exhibit houses hundreds of butterflies from all over the world. Visitors can walk among the fluttering insects and even watch as they emerge from their cocoons.
Children's Garden: Designed specifically for kids, this interactive garden features hands-on activities like digging for dinosaur bones, playing in a musical maze, and exploring a sensory garden.
Rose Garden: One of the most popular areas of Hershey Gardens is the Rose Garden, which features thousands of roses in every color imaginable. It's a great spot for taking photos or just enjoying the beauty of nature.
Conservatory: The conservatory at Hershey Gardens is home to tropical plants from around the globe, including orchids, palms, and cacti.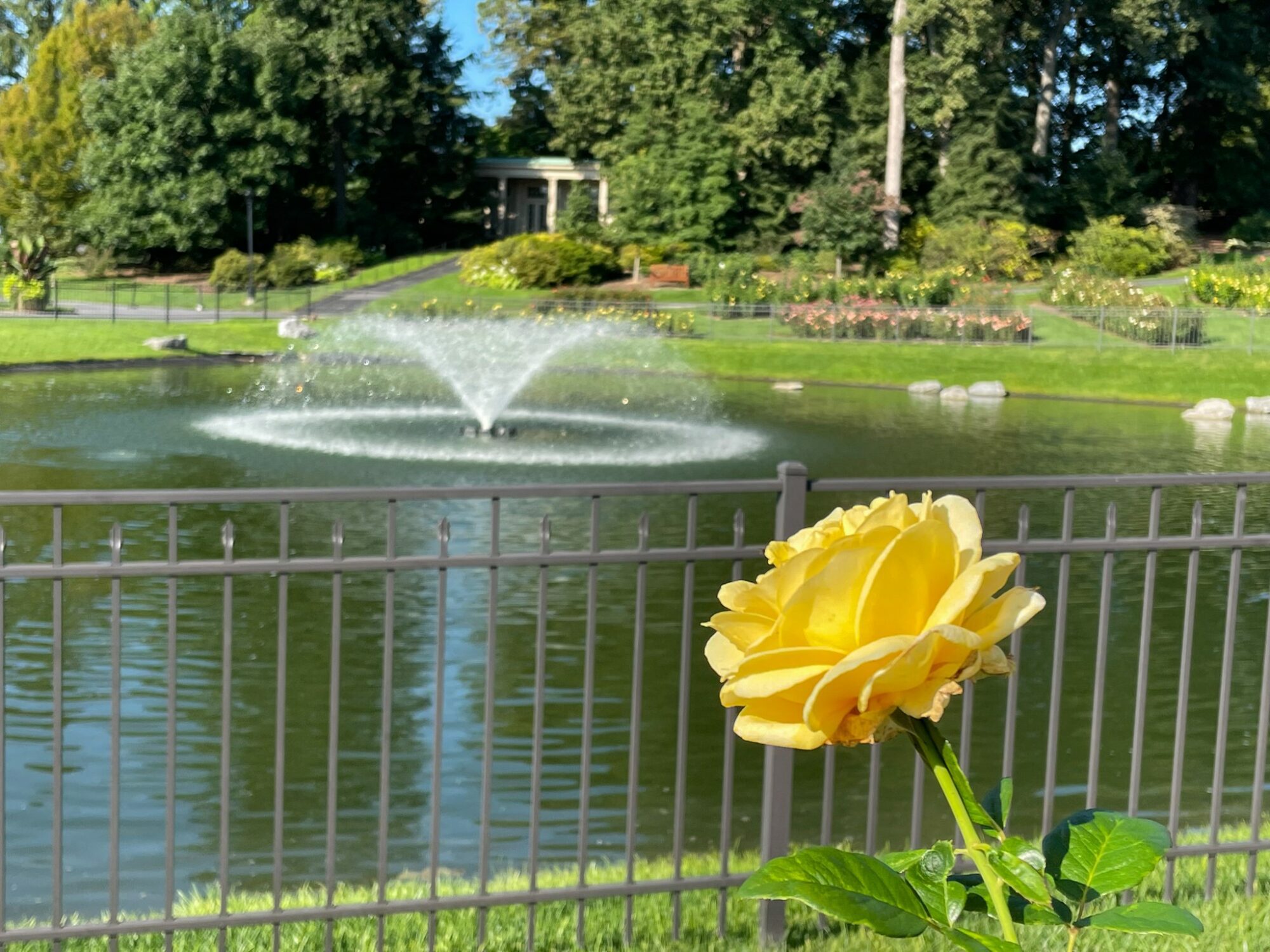 Overall, Hershey Gardens is a must-visit destination for anyone who loves nature or just wants to spend some time outdoors surrounded by beauty. With plenty of kid-friendly activities as well as more adult-oriented exhibits, there's something here for everyone.
Stop by Hershey's Chocolate World
What could be sweeter than Hershey's Chocolate World? Located at the entrance of the park, Hershey's Chocolate World offers interactive exhibits, the famous Chocolate Tour, plus a taste of what makes Hershey the sweetest place in the gift shop area.
The Chocolate Tour ride takes you on a simulated factory tour to learn about Hershey's chocolates and how they're made from cocoa beans. The free chocolate tour ride has been revamped in recent years and features lots of new singing characters and songs.
In addition to sweet treats, there is also the option to make your own candy bar or get tickets to Hershey Unwrapped, an interactive theater show set in a chocolate lab. Chocolate World is complimentary admission, but tickets to create your own chocolate bar or attend the live show are extra.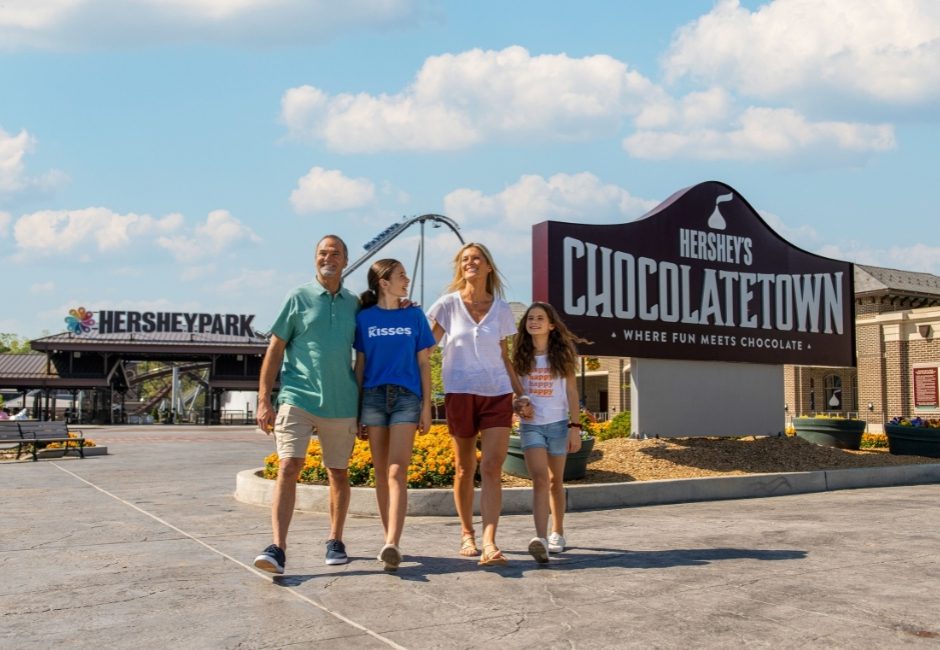 Check out Hotel Hershey
The Hotel Hershey is a historic hotel located in Hershey, Pennsylvania. It was built in the 1930s by chocolate magnate Milton S. Hershey as a luxurious retreat based on a Mediterranean design. Today, the hotel is known for its elegant decor, top-notch amenities, and stunning views of the surrounding countryside.
Some highlights of The Hotel Hershey include:
Accommodations: The hotel offers a range of accommodation options, from standard guest rooms to luxury suites. All rooms feature high-end furnishings and bedding, as well as modern amenities like flat-screen TVs and complimentary Wi-Fi.
Dining: The Hotel Hershey is home to several restaurants and bars, including the flagship Circular Dining Room, which serves up classic American cuisine in an elegant setting.
Spa: Guests at The Hotel Hershey can indulge in a variety of spa treatments like a cocoa massage at the on-site spa, which features a sauna, steam room, indoor pool, and more.
Activities: There's plenty to do at The Hotel Hershey beyond just relaxing in your room or getting pampered at the spa. Guests can enjoy golfing on the hotel's championship course, taking a dip in one of two outdoor pools (including one with a water slide), or exploring the nearby attractions like Hersheypark.
Hershey Lodge
A fun and family-friendly experience, the Hershey Lodge is perfect for those looking to get away for the weekend. With all the amenities of a resort, including a full-service spa and indoor pool, Hershey's Water Works. The kids will love the indoor pool and water slides at Hershey Lodge – everything is candy themed, of course.
Hershey Lodge offers several different packages like their Traditional Package which includes admission to Hershey Garden in season and the Hershey Story Museum. There is also a Kids Stay Free package that includes free souvenir towels, free meals, and more.
Hershey Bears Hockey
Head over to the Giant Center to see one of America's oldest professional hockey teams in action. No matter what time of year you're visiting, there's always something going on with Hershey Bears Hockey. This is a great indoor activity in the winter months and always a fun time, especially when the game gets rowdy!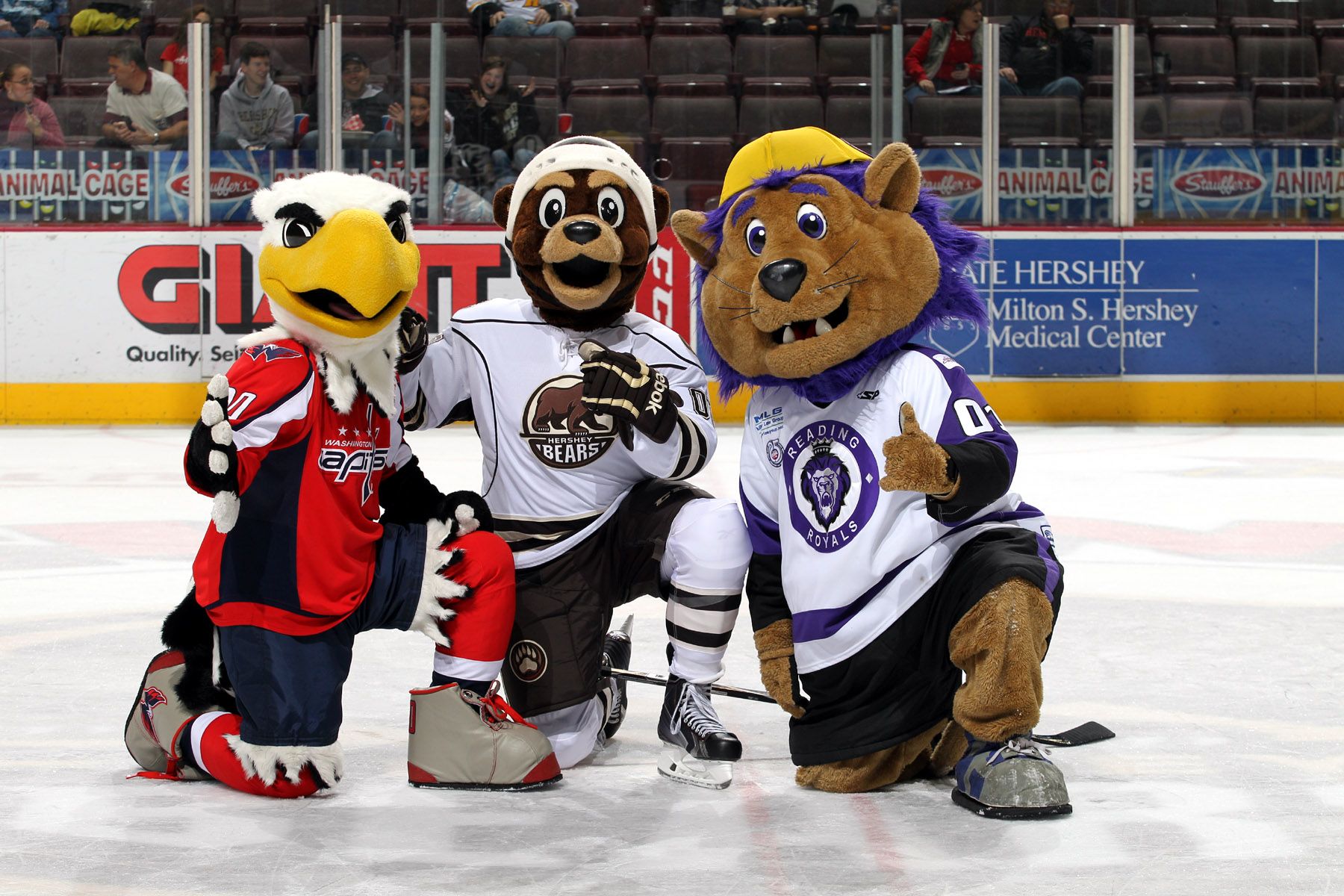 Take a Tour of Town with Hershey Trolley Works
The Town of Hershey offers its own trolley works which takes visitors through the town, pointing out historic sights along the way. Get acquainted with "the sweetest town on earth" in a unique and fun way on this guided tour down Chocolate Avenue that begins and ends at Hershey's Chocolate World. Along the way, you'll engage in lots of chocolate tasting as you learn about the history of cocoa beans, the story of Milton Hershey, and more.
Visit the Hershey Story Museum
The Hershey Story Museum is a museum located in Hershey, Pennsylvania that tells the story of Milton S. Hershey and his famous chocolate company, The Hershey Company. Here are some key things to know about the museum:
Exhibits: The museum has several permanent exhibits that explore the history of chocolate-making, the life of Milton S. Hershey, and the legacy of his company. These exhibits include interactive displays, artifacts from Hershey's past, and multimedia presentations.
Special exhibits: In addition to its permanent exhibits, the museum hosts special exhibitions throughout the year that focus on various aspects of chocolate-making and candy culture.
Chocolate lab: One of the most popular features of the museum is its Chocolate Lab experience, where visitors can participate in hands-on activities and learn about chocolate-making techniques from expert chocolatiers.
Tastings: The museum also offers opportunities for visitors to taste different types of chocolate from around the world at its Chocolate Tasting Experience.
Events: Throughout the year, the Hershey Story Museum hosts a variety of events for visitors of all ages, including family-friendly activities and adult-only events.
Overall, the Hershey Story Museum is a must-visit destination for anyone interested in learning more about one of America's most iconic candy companies and indulging their love for all things chocolate.
Visit the ZooAmerica North American Wildlife Park
Get up close with wildlife from all over North America, including bears, foxes, mountain lions, birds of prey, and more at Hershey's ZooAmerica. There are around 200 different species of animals at the zoo, but our very favorite are the River Otters.
This small animal park is located inside of Hersheypark, but it's possible to purchase tickets to ZooAmerica separately. Tickets to the zoo range in price from $13-15.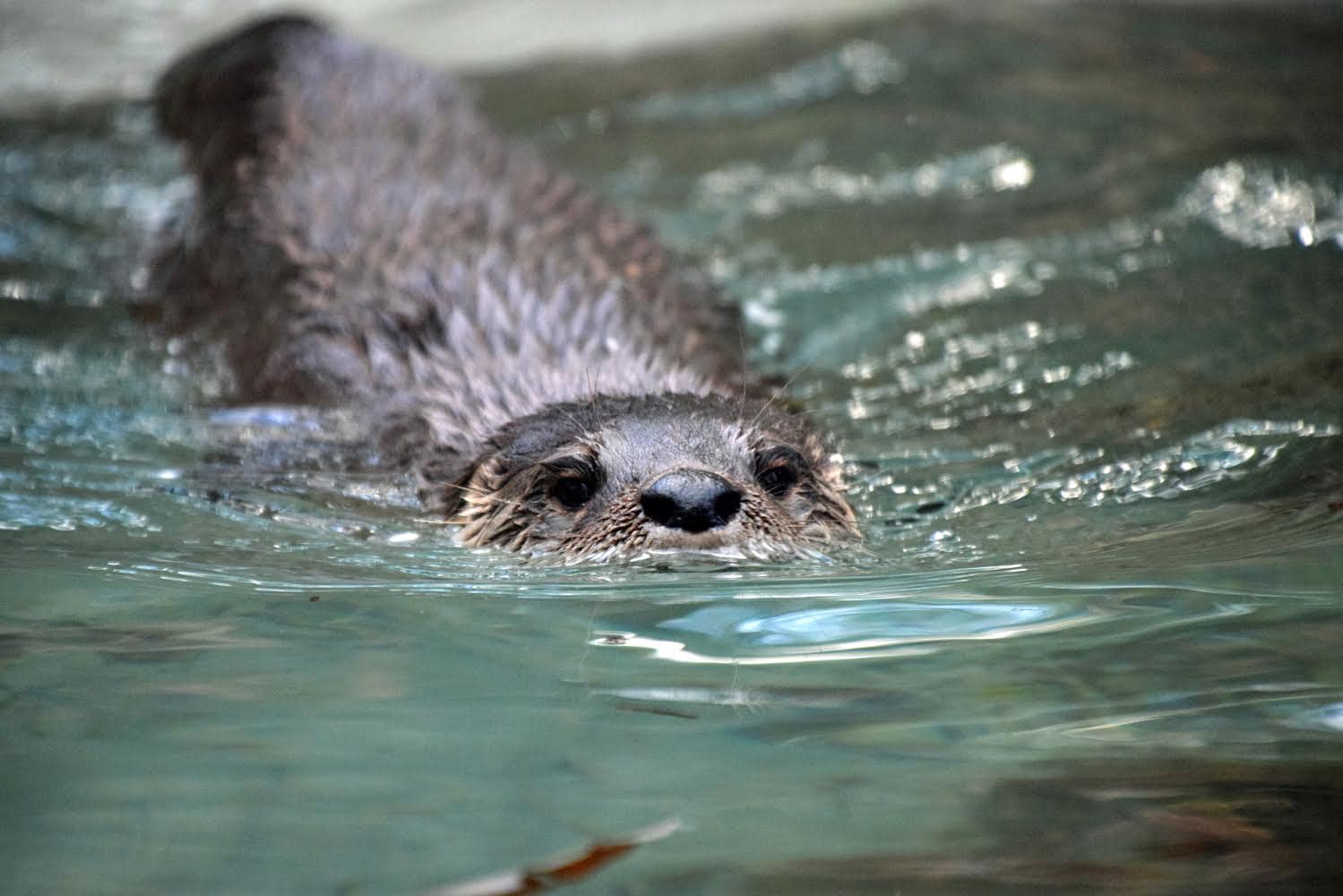 Explore Cullari Vineyards
Just outside of town is Cullari Vineyards, which provides visitors with a peek into the winemaking process as well as free tastings at their tasting room. Stop by here to enjoy some time outdoors while also taking in some of Pennsylvania's finest wines.
Indian Echo Caverns
Indian Echo Caverns is a fascinating natural wonder located in Hummelstown, Pennsylvania. The caverns were first discovered by Native Americans centuries ago and were later opened to the public as a tourist attraction. Visitors can take a guided tour through the caverns, which are filled with stunning rock formations and underground waterways. Some highlights of Indian Echo Caverns include:
Crystal Chapel: This part of the caverns features towering columns of sparkling crystal formations that resemble a church or chapel.
Lake Room: As its name suggests, this section of the caverns is home to an underground lake that reflects the surrounding rock formations.
Formation of the Belfry: One of the most impressive sights in Indian Echo Caverns is the Formation of the Belfry, which looks like a bell tower made entirely out of stone.
Besides the cave tour, kids will enjoy visiting the animals in the barnyard, panning for gems, or letting loose on the playground.
Admission prices are $22 for Adults, ages 12 and over, $20 for Seniors, ages 65 and over, and $13 for Children, ages 2-11 Children, under 2 are FREE
Antique Automobile Club of America Museum
The Antique Automobile Club of America Museum is a must-visit destination for car enthusiasts and history buffs alike. Located in Hershey, Pennsylvania, the museum features a wide range of classic and antique vehicles from throughout automotive history. Some highlights of the Antique Automobile Club of America Museum include:
Collections: The museum has several collections including the Cammack Tucker Collection, which features three rare Tucker automobiles; the World Wars I & II Collection, which showcases military vehicles from both wars; and the Bus Collection, which includes vintage buses from around the country.
Exhibits: In addition to its permanent collections, the museum also hosts temporary exhibits on various themes related to automotive history. Recent exhibits have included "Mustang Madness" and "Indianapolis 500: The Exhibition."
Events: Throughout the year, the Antique Automobile Club of America Museum hosts events such as car shows, auctions, and lectures on various topics related to automotive history.
Overall, if you're interested in classic cars or just want to learn more about American history through the lens of transportation, then you won't want to miss visiting the Antique Automobile Club of America Museum.
Boyd Orchards
If you're in the Hershey, Pennsylvania area and looking for a fun day trip, look no further than Boyd Orchards in Biglerville. This family-owned orchard has been around since 1937 and offers visitors the chance to pick their own fruit or purchase pre-picked items from the market on site.
In addition to delicious apples, you can also find peaches and cherries depending on the season. But that's not all – Boyd Orchards also offers a variety of seasonal activities such as hayrides, pumpkin picking, and corn mazes.
And if you have time to explore beyond the orchard itself, there are plenty of other local attractions such as Gettysburg National Military Park or the historic town of Carlisle that are worth checking out too.
Pennsylvania State Police Museum
Located in Hershey, the Pennsylvania State Police Museum is a must-see for those interested in law enforcement. The museum offers exhibits about police history and memorabilia, including badges, firearms, and uniforms. You can also explore interactive displays on crime prevention and safety. Admission to the museum is free.
Go Shopping in Downtown Hershey & Beyond
If you're into shopping, there are plenty of places to get some retail therapy. In addition to all the amazing little shops in the downtown area, you'll also find:
Hershey's Chocolate World: This massive retail complex is located just outside of downtown Hershey and offers visitors the chance to purchase all sorts of chocolate-related souvenirs and gifts. In addition to candy bars and other sweet treats, you'll find apparel, home decor items, toys, and more.
Cocoa Packs: This charming boutique in downtown Hershey sells a variety of unique gifts and accessories made by local artisans. You'll find everything from handmade jewelry to hand-painted pottery to artisanal chocolates.
The Shops at the Hotel Hershey: If you're looking for high-end shopping options, head over to The Shops at the Hotel Hershey. This upscale retail center features designer clothing, jewelry, home goods, and more.
Tanger Outlets: Just a short drive from downtown Hershey, the Tanger Outlets offer shoppers a wide range of popular stores and brands at discounted prices. You'll find everything from Nike to Kate Spade to Calvin Klein.
No matter why you find yourself visiting Hershey PA, there's plenty to do besides Hershey Park and its famous roller coasters. With unique experiences, special events and sweet treats, the town of Hershey is sure to please visitors of all ages. Just be sure to bring your walking shoes – you'll need them for exploring from one end of the parking lot to the other! From Hershey Gardens to a trolley tour and even making your own candy bar at Hershey's Chocolate World, there are plenty of fun things to do in this "Sweetest Place on Earth". So don't forget: Stop by Hershey PA for some great times and memories that will last a lifetime.